With the announcement of Shoploop, Google has officially added its name to the growing list of video-centric platforms making headlines. Unlike entertainment giants TikTok (which might get banned in the US) and Instagram (which is making moves to replace TikTok), though, Google is making moves in the e-commerce space — or, more accurately, the e-commerce-as-entertainment space.
Last Thursday, Area 120 — Google's internal incubator for experimental ideas — launched Shoploop, an e-commerce platform where consumers browse products by watching video clips no longer than 90-seconds.
The videos demonstrate to viewers how to use the products, and Google's technology allows them to shop for those products online right from the app.
The E-Commerce Side
In the announcement, the Google team behind Shoploop suggests that millions of online shoppers around the globe want a one-stop shop for all their product information. Shoploop offers a unique, streamlined experience — a way to "meet" products up close and personal. It gives the kind of close and efficient access platforms displaying only photos and descriptions do not.
Lax Poojary, the general manager for the Shoploop project, wrote that the idea for a new e-commerce platform came to him while riding the New York City subway:
"One of the young commuters standing next to me was silently scrolling on her device, switching between a social media app, YouTube and an online shop.
"Curious, I asked her what she was doing. It turns out she'd seen somebody promote a makeup product on social media, and wanted to check it out — so she watched reviews on YouTube to see how it would look in real life and whether other people liked it. Then she looked it up on an e-commerce site to buy it. This took three different apps or websites, at minimum, to find what she was looking for."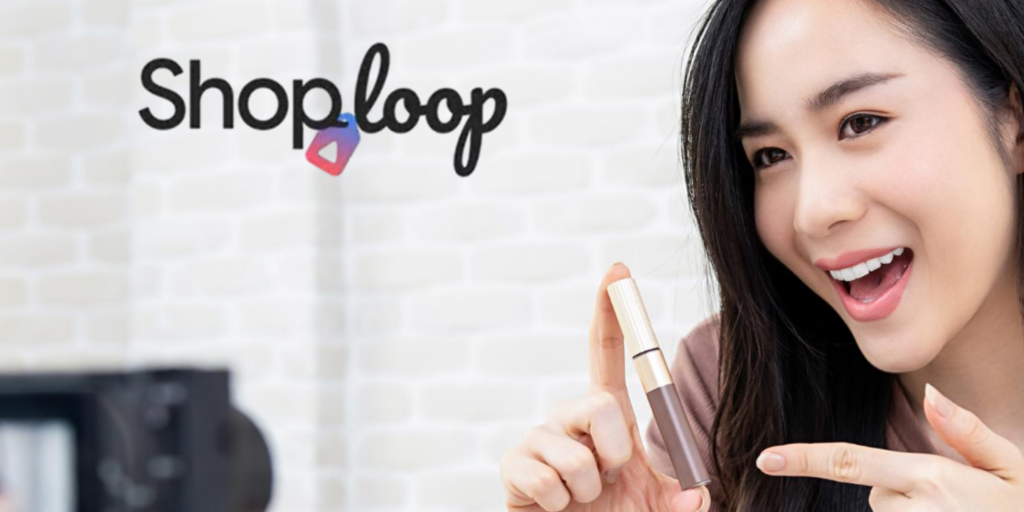 The Entertainment Side
Shoploop acts similarly to most entertainment-based social media platforms, with a scrolling feed that auto-plays videos. When a consumer finds a product worth buying, they can either save it for later or click through to purchase it directly via the merchant's website. Just like on other platforms, Shoploop users can follow merchants, as well as like and share posts. It's a socially engaging environment — the type that has taken off in recent months, becoming a core part of people's routines amid the socially stunting pandemic.
The launch video leans heavily into the makeup and beauty scene, which is one of the core target markets. That tells us we should expect to see influencer marketing on this platform in a big way. The YouTube beauty scene is an entertainment space with a devoted community of followers. We won't be surprised if we see key players, like NikkieTutorials or Tati, showing up in our Shoploop feeds.
The developers behind the app have said that more categories are set to come in future updates. For now, Shoploop is a mobile-only web app, with the vertical scrolling interface showing vertical videos of creators and reviewers alongside products.
Key Takeaways:
If you have a strong influencer strategy in place, start thinking about how you'll map it to Shoploop. If you're not doing influencer marketing yet, now is a good time to start thinking about who can represent your brand well and draw in new customers. Also consider the entertainment value — it's time to nail down your attention-grabbing video skills.
Note that there is a waitlist for merchants to join the platform.